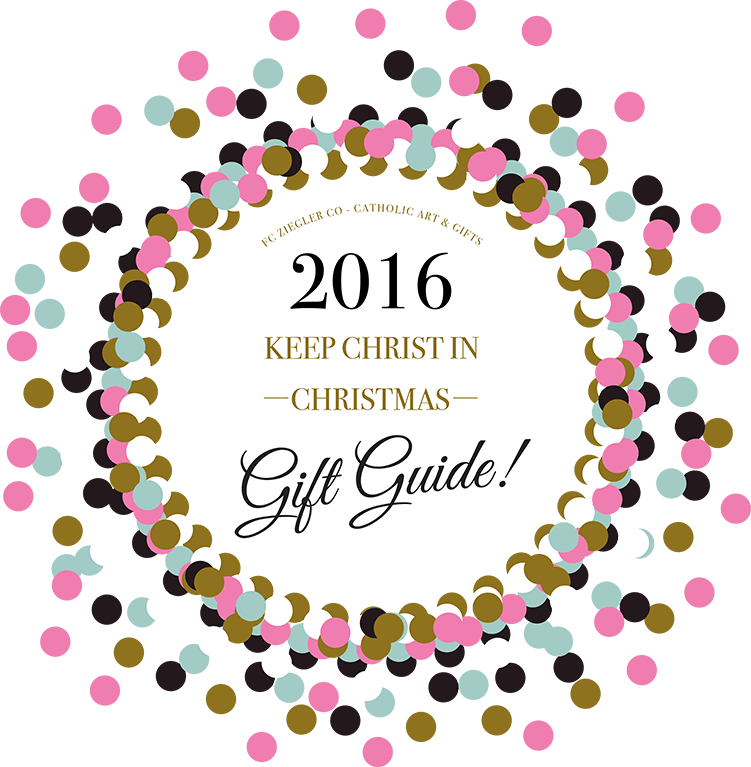 The liturgical year has come around again.
Advent ushers us in to the Christmas season and we wait expectantly for Our Lord.
The Catholic faith is based on the most beautiful gift offered to humanity, Jesus Christ. At F.C. Zieglers we are devoted to keeping Him in our hearts, in our homes and in our business. That means we are thrilled at the prospect of keeping Christ in Christmas. To that end, we have prepared this year's Christmas Catholic Gift Guide. Our stores and website are brimming with this year's choice gifts and that adds up to over 10,000 items in nine locations. Find reminders of Him and all that our faith encompasses with the gifts we feature. Bibles, bible covers, statues, toys, jewelry and many more Catholic gifts are available. Browse our guide, our website, and if you can, one of our stores. Keep Christ in Christmas? Well, sure. He will always be in ours. We celebrate Christ every day in our stores and business, so drop the car keys, get comfy and let the spirit of giving settle in while you browse.
Welcome!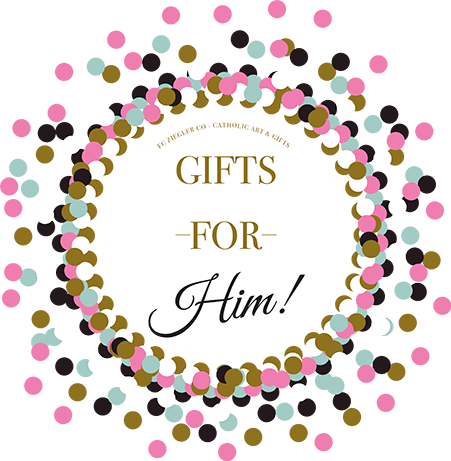 Father, brother, husband, son, best bud, favorite uncle ,…You name him, we have him covered. We have assembled a selection of suggestions that include classics, such as a keychain and the very meaningful, like a sleeping St Joseph statuette.

Click Here to View Gifts for Him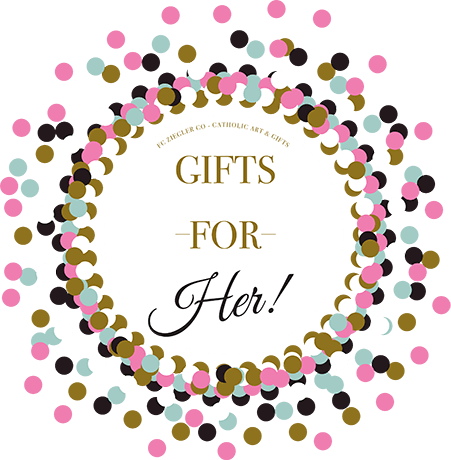 Whether you are looking for a trinket or for a more elaborate way to share the Christmas spirit with a lady, we can meet your needs. Consider a keepsake box for her Rosary beads or a cookbook chock-full of recipes from the Vatican. Keep clicking. We have much more.

Click Here to View Gifts for Her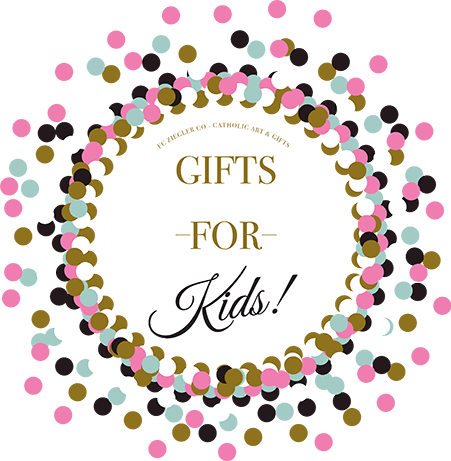 Kids are so fun to shop for! In fact, our guide will give you as much joy in giving as they will have in opening up their treat. Well, that may be a bit of an exaggeration, but we definitely had fun putting this list together for the littlest loves in your life. How about a Tiny Saint for a tiny person? Or, check out our Noah's Ark Little People set.

Click Here to View Gifts for Kids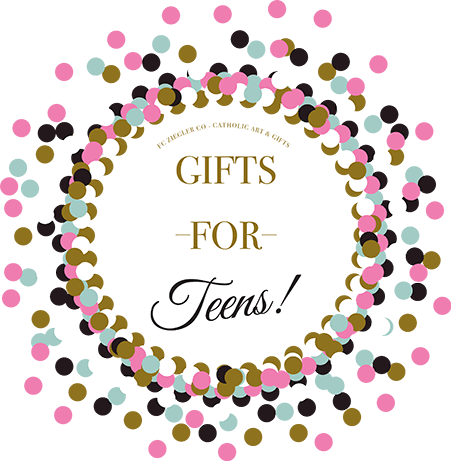 At the risk of sounding old and fuddy-duddyish, we will refrain from trying to sound hip and cool and just say that our web-builders have pored through our inventory to find just the right ideas for that teenager you love. Matt Maher definitely succeeds at sharing the Word with our young people - check out his CD. St. Sebastian will always be present at sporting events if you consider a medal that your teen can wear under a uniform.

Click Here to View Gifts for Teens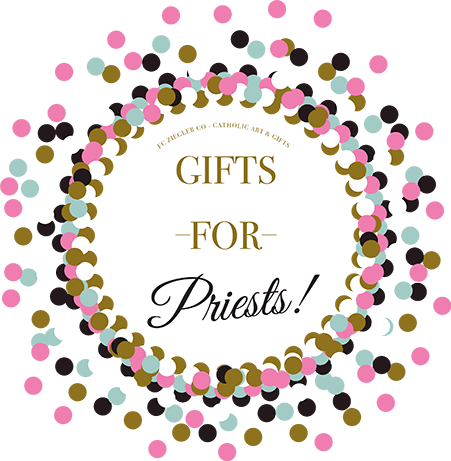 With as much as our priests minister to us, it is easy to give in to that desire to give back. Here are some suggestions that will help you along the way. Feel free to click the chat button below for help if you need help for sizing, style or colors, or any other information on items you wish to consider.

Click Here to View Gifts for Priests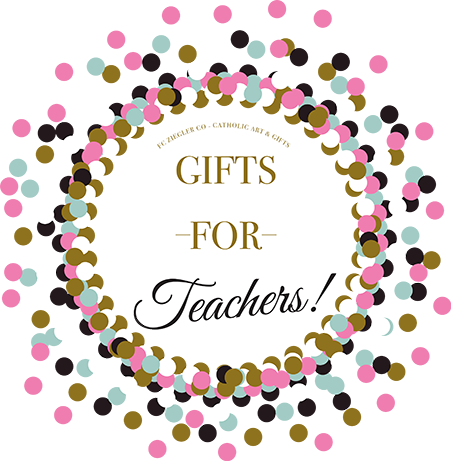 One of our web-designers happens to be a retired teacher, so we have you covered on this. And if you are buying for a teacher in a Catholic school, you are definitely in luck. Feeling resourceful? Give the scholar a dictionary of saints. It will be useful in and out of the classroom. Or how about a visor clip to remind him that he is loved whether in the classroom or on the road?

Click Here to View Gifts for Teachers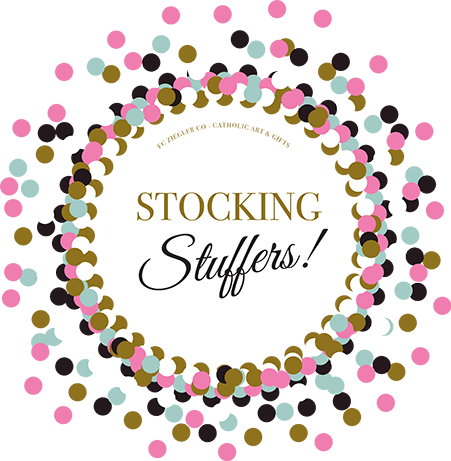 Little-bitty items with itty bitty prices - Need just a little something to show your appreciation or remind someone of your affection? Go through our selection of itty-bitty things to fill a stocking from toe to cuff. A holy water bottle is a particularly meaningful little something. Or how about a Tiny Saint for a tiny person?

Click Here to View Stocking Stuffers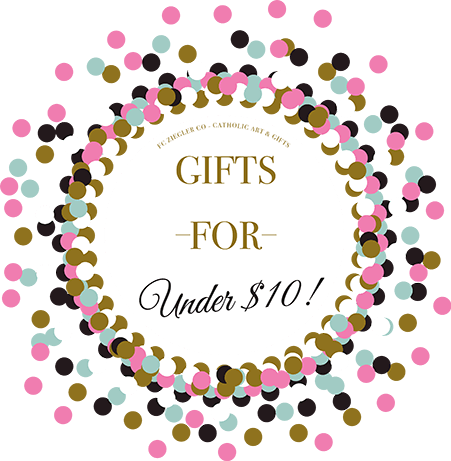 As necessary as they are, we understand that budgets are not necessarily fun, so we have compiled a list of under-tens to help you out. Go light and easy with a Happy Birthday Jesus ornament, or a little more sedate with framed art depicting The Last Supper. Did we say Last Supper for under ten? Why, yes…we did.

Click Here to View Gifts Under $10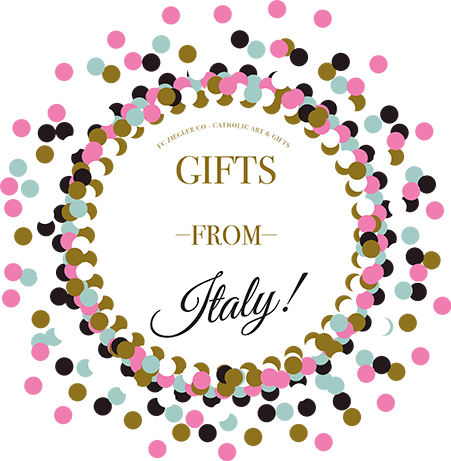 Can't make that quick trip to Rome for a few trinkets? Shop with us and give "Roman Holiday" a whole new meaning. We have everything from medals to crucifixes and water bottles to satisfy your needs.

Click Here to View Gifts from Italy