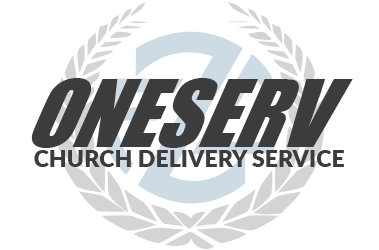 Are you tired of paying outrageous shipping prices for your everyday church needs? Shipping charges killing your budget for that new tabernacle you've been wanting to get installed? The cost of shipping essential church commodities such as candles, wine and hosts is becoming increasingly costly over time but not anymore.
Please allow us to introduce to you our ONESERV church delivery service! A fantastic delivery program that we at the F.C. Ziegler Co. provide in order to make life a little more easier for you, your parish, church staff and essentially your congregation!
Our OneServ Church Delivery Service works as follow. You place a cyclical order for an amount totaling $350.00 or more and your shipping costs gets reduced significantly! Our professional drivers will deliver your items to wherever you designate us to. Need 20 cases of candles in the back of the church no problem! 30 cases of wine in the catacombs of your parish, easy peasy! Altar bread delivered by drone in the bell tower of the church - well almost everywhere but you get the idea! You let us know and we will take care of you 100%. Due note that OneServe delivery is not available everywhere. Please see the map at the bottom of this page and contact us to see if your location qualifies.
Sign me up now you say? Sure thing, but in order to do so you must call into our 1-800-331-4117 , chat with us or leave a message on our Contact Page. Our helpful customer service reps will either set you up or get you in touch with your local sales rep to further assist. It's important to know that you will need to have an account created in our internal system if you don't have one but either way we will be here to aid you and make sure you get set up in no time. Once an account is created in our internal system we can talk more about placing orders online easily.
Don't forget that you can see our OneServ delivery schedule here!
If you wish to be able to create your OneServ delivery orders online that's no problem! In order for this process to work smoothly please read the following.
What are the benefits for ordering online?
Easily place your OneServ order online anytime from any place.
Charge to your account or pay by credit card, paypal, apple pay and much more.
See your past orders and easily re-order the same items without having to do it all over again.
In order to place your OneServ orders online you must-
1. Have an account in our internal system that has an established church account # associated with it. Don't have one? Contact us!
2. Create an account on our website. You can easily do so by clicking right here.
3. Once both accounts are set up internally and externally you would simply contact us via 1-800-331-4117, chat or our Contact Page. We would then be able to sync both accounts so that you may place orders online easily with your new OneServ delivery option. If you have an account in our internal system and don't have one online or vice versa we will be more than happy to assist you in this process. We want to make your life as easy as possible.
4. After all steps above are completed you should then be able to easily place you OneServ delivery order online. You can confirm this by seeing the OneServ delivery option show up when you estimate your shipping charges in your cart or when the shipment options populate when you check out. Please remember, that in order for this shipment option to populate the minimum order value is $350.00!
Should you have any other questions please don't hesitate to call us at 1-800-331-4117, online chat(if we are available), or our Contact Page.