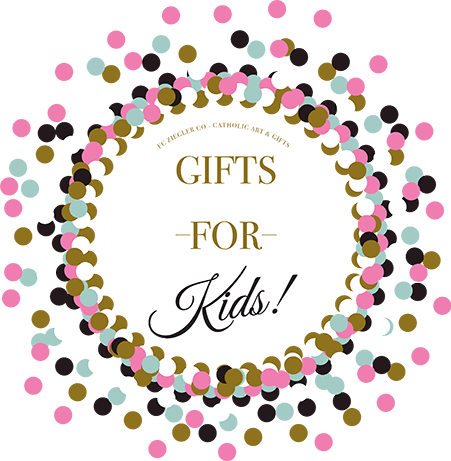 Kids are so fun to shop for! In fact, our guide will give you as much joy in giving as they will have in opening up their treat. Well, that may be a bit of an exaggeration, but we definitely had fun putting this list together for the littlest loves in your life. How about a Tiny Saint for a tiny person? Or, check out our Noah's Ark Little People set.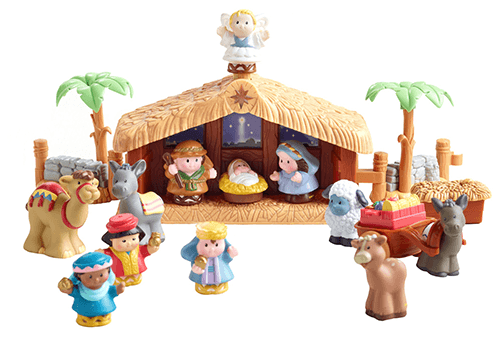 You know, it is never to early to begin learning about Jesus and this nativity is the perfect opportunity. Let your little person play with these little people as he learns about the Nativity. Give this little treasure to your little treasure, or even someone else's little treasure.
Designed for kids as young as 1-year old, kids of all ages will appreciate its whimsical humor!
Kids can arrange the 18 pieces in various configurations, and can begin learning the Christmas story from their very first Christmas!
The 18 figures include Mary, Joseph, Baby Jesus, a musical manger (needs 3 AA batteries), 5 animal figures, a donkey cart, a food bin, a stable,
2 connectable palm trees, an angel, and three kings.
Give children a toy that helps them learn the true meaning of Christmas!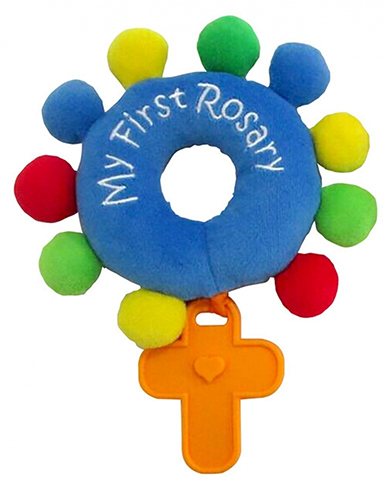 Whether in church, in the car, or at home, we are sure Mommy or Daddy and Baby will be happy to contemplate the Rosary with this thoughtfully designed plush toy which is also a rattle. Make this Christmas a bright one for someone you love. It is available in pink or blue.
Brother Francis The King is Born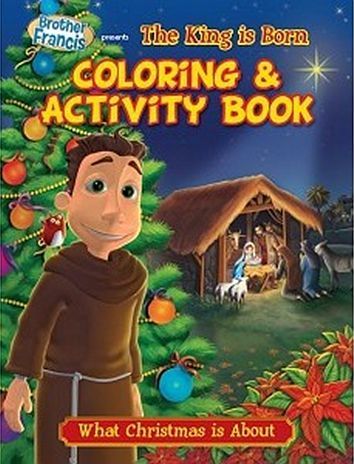 Are you looking for a way to keep Christ in Christmas with the young people around you? Here is a great way to do that while you keep within a modest budget. This Brother Francis "The King Is Born" coloring and activity book will hit the bulls eye with its activities recounting the birth of Our Lord.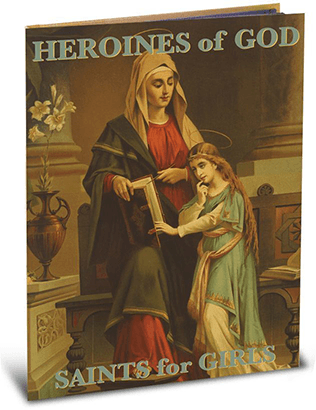 There are plenty of saints to teach our young ladies about true love, the love of Our Lord Jesus Christ. This book is the perfect gift to give when you want to reinforce that love and see the delight of a girl when you do. This book has 64 pages of inspiration.
Catholic Baby's First Prayer Book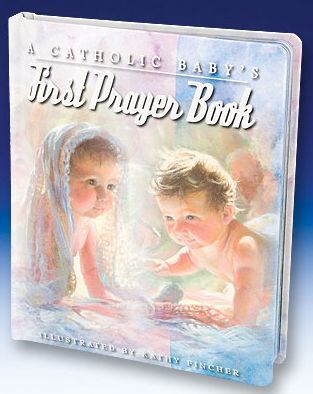 Give this first prayer book to the little one in your life who likes to eat while reading, or eat what he is reading. The beautiful act of prayer begins with this sweet book that will start that intimate relationship with Christ at an early age.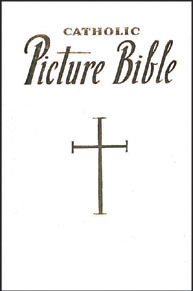 This is a fitting gift for the young reader to enjoy independently or with family, depending on the reading ability of the recipient. Stories from the Old and New Testaments are retold and illustrated so that they can be enjoyed for many years.
St. Joseph Illustrated Book of Saints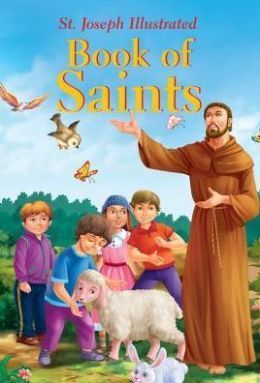 What child can resist bright colors and amazing stories? The "St. Joseph Illustrated Book of Saints" tells amazing stories with bright illustrations. This will be a sure hit on Christmas morning.
Gloria Children's Story Books Set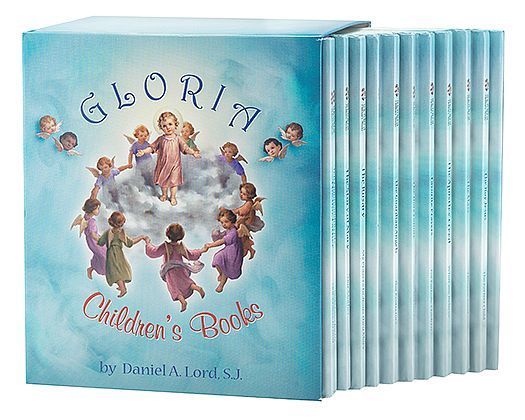 Hmmm…maybe this would be a good set to celebrate the twelve days of Christmas. This set contains twelve books that are perfect for young readers. The collection is spot-on for the Catholic child.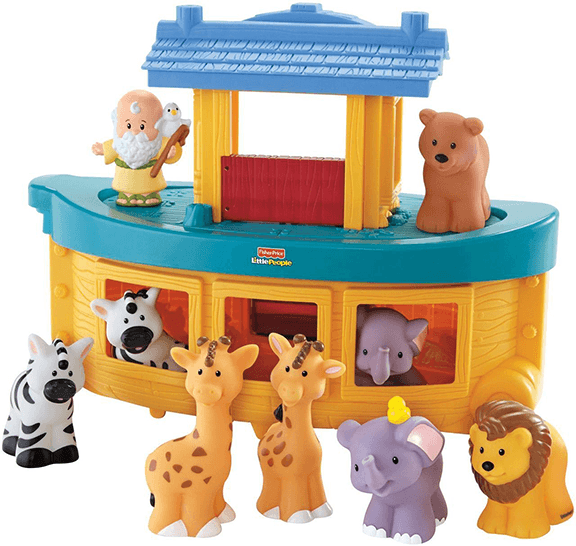 Think of the cutest pair of pudgy hands in your life and then imagine them reenacting the story of Noah's Ark. The smiling faces on the paired animals in the ark will surely be a hit on Christmas morning as one of the most familiar Bible stories appears under the Christmas tree.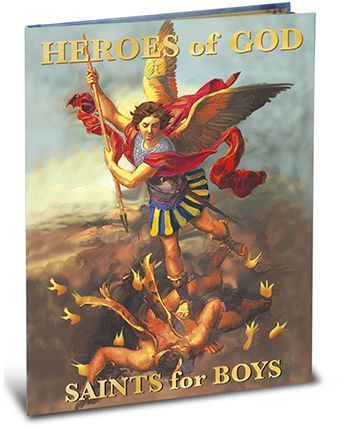 This one is for the boys. Grab this book for the young man who is on fire for the Lord or for the young man who you would like to inspire to be impressed by those who have been on fire for the Lord. Stories fill 64 pages to do just that.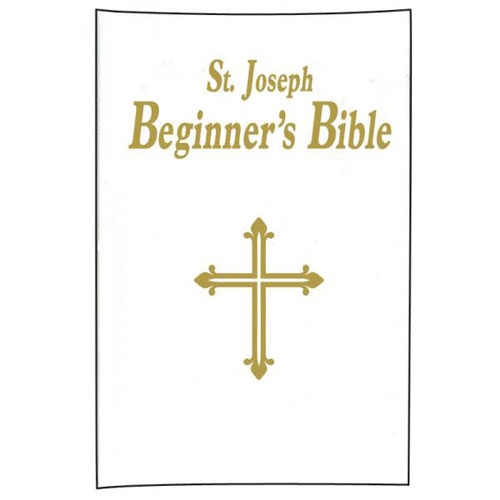 Small package? Good gift. Ninety-six pages of Bible stories in a small package? Great gift. Give this to a child for Christmas and you have given them so much more. Over forty stories will captivate your little one. This gift is definitely spirit-filled.
The Christmas Star From Afar Nativity Set
The Christmas Star From Afar helps encourage children to go on a hunt for their Star, similar to that of the Wise Men. Everyday the Star is hidden and the children participate in a fun hide-and-seek game to locate it. Once they have found their Star they move all Three Wise Men to its location. On Christmas morning the Three Wise Men reach their final destination when the Star is found at the stable with the newborn baby Jesus! Order now!
The Faith Bracelet with Hail Mary prayer comes with youthful images with each section of the prayer. Easy to fit to your wrist with an adjustable bead fastener. Prayer is on the reverse side of the card. Available in Spanish as well!
Official Pope Francis Papal Cross 3/4"
Zieglers has sourced the official Pope Francis Papal pectoral cross designed by the Genoese sculptor Antonio Vedele and made in Italy! This beautiful rendition of Pope Francis papal cross come with the famous image of the good shepherd carrying the lost but now found sheep around his neck while a multitude of sheep surround him and the Holy Spirit as a dove guiding them is on top of the cross. The image represents the good shepherd who guides his flock to the fold. The simple metallic color and cross are symbols of pope Francis retaining his poor cross when being ordained a bishop originally. Order now! Available in more styles here!
Guardian Angel Holy Water Bottle
Keep a reminder of the Holy Spirit and your Guardian Angel with you always with this adorable Holy Water bottle made in Italy!