The story and meaning of the original Pope Francis Papal Pectoral Cross
Greetings, Brothers and Sisters! From the moment we heard "Habemus Papam!" and laid eyes on the new vicar of Christ we fell in love with Pope Francis- Jorge Bergolio! With the gentle greeting resonating in our hearts, Pope Francis began to teach and show us simplicity, hope, and humility. Everything about Pope Francis is beautifully simple. This flows from his love for the Church and the poor, and his spirit, or rather the Holy Spirit, filling him with this profound gift. Simplicity runs through Pope Francis' veins affected even in the papal pectoral cross he wears around his neck.
Click on the image below to view a four-inch Papal Cross.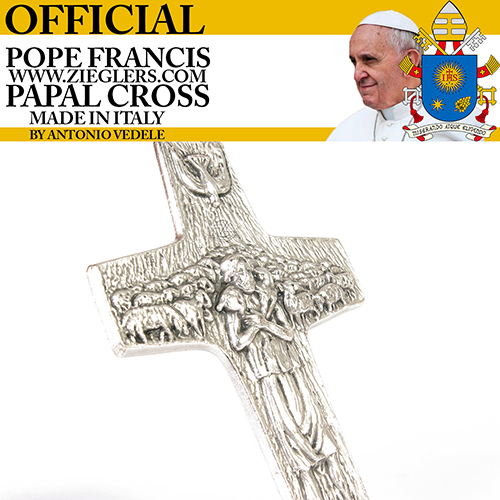 Why this Papal Pectoral Cross is Different
For centuries popes, cardinals, and bishops wore the pectoral cross as a sign of authority and prestige among other clergy members. In fact, one of the first popes to wear a papal pectoral cross was Pope Leo III, in the year 811. He was given a gold cross as a gift from Nicephorus, the Patriarch of Constantinople. It soon became customary for the pope to wear a pectoral cross. Since then, the pectoral cross has been adorned with gold jewels and precious stones.
With that being said, we gather that Pope Francis' pectoral cross is definitely different from previous pectoral crosses. You can see that there is no gold on his pectoral cross, nor any precious stones or jewels. Only a simple and humble soul could turn down a solid gold pectoral which is exactly what he did. His excellency chose to keep the same papal pectoral cross he wore for many years as Archbishop and Cardinal of Argentina.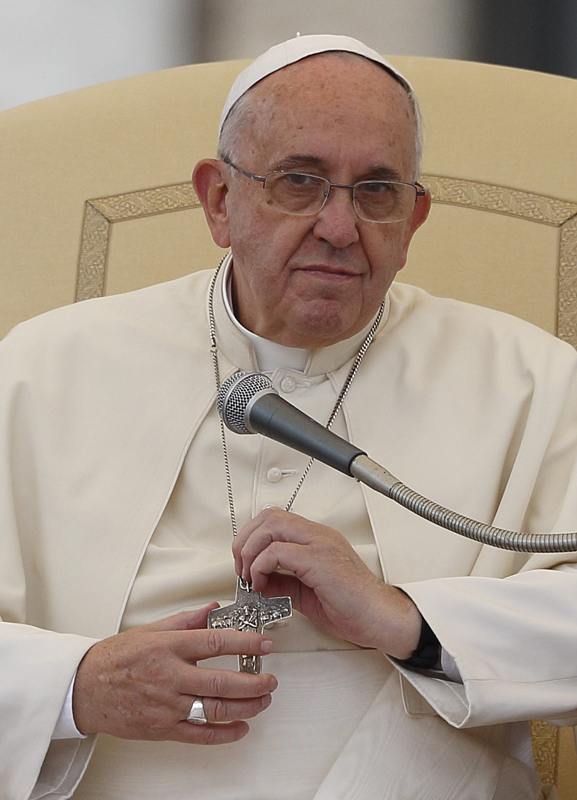 Pope Francis decided to keep his original pectoral cross because it held a special place in his heart. When he held his pectoral cross in his hand it was a reminder to him that he was called by God to be a shepherd to his people especially the poorest of the poor. Those who encountered him while he prayed for them and spoke with them were drawn to the cross and would find comfort and peace upon seeing the pectoral cross.
So, what is the design of Pope Francis Papal Pectoral Cross and where did it come?
The original design of Pope Francis pectoral cross, drawn by Antonio Vedele, who passed away in 1997, was actually made by a small artisan master craftsmen named Guiseppe Albrizzi of Pavia, Italy. Albrizzi states "The cross was made by me, but it was drawn by my teacher, Antonio Veldele, for whom I worked until 1978. I am grateful for everything he taught me, the teacher who created the cross of Pope Francis." (Source: UPA Federimpresa)."
The details of the cross are rooted in the Gospel of Luke. That is, the parable of the good shepherd and the lost sheep. Luke 15: 4-7 says, "What man among you having a hundred sheep and losing one of them would not leave the ninety-nine in the desert and go after the lost one until he finds it?"
In the center is the figure of a man who represents Jesus, the Good Shepherd, who has found one of his sheep and carries it while the other sheep follow closely. At the top of the cross, the dove representing the Holy Spirit descends from God the Father to God the Son, helping those who are lost and in darkness, and bringing them new life! The linear style is intended to be a symbol for a new ecclesiastical era, a poor Church among the poor, as Pope Francis has indicated. The original Pope Francis papal pectoral cross, worn by Pope Fancis, is sterling silver and weighs 80 grams.

The life, legacy and mission of Pope Francis
Pope Francis show us the way of humility and simplicity, but more importantly, how to love God and our neighbor! That's what a good shepherd does; he lays his life down for his sheep. Be reminded of a loving pope by wearing your own Pope Francis Papal Pectoral Cross!
We at Ziegler's are excited to offer you the copyrighted, Official Pope Francis Papal Pectoral Cross, created and designed by craftsman Antonio Vedele! The papal Cross of Pope Francis is also known as the Papa Francesco Cross, or Papa Francisco Cross. All the original beauty of the original papal cross is maintained in the replicas we carry. The cross is beautiful, highly detailed, silver oxidized, die cast metal, made in Italy. We choose our vendors with much prudence and it is because of our fantastic relationship with the one and only officially authorized manufacturer of the Pope Francis Papal Cross that we are able to bring to you the Pope Francis Cross. We procure them directly from the factory in Italy, while you enjoy fast shipping and great savings!
Browse through the many Pope Francis Papal Crosses below. A sizing chart of our metal silver-oxidized crosses is provided. Order from our extensive selection of Pope Francis gifts today!