Happy New Year!
Yes, it is a little early, but not as early as one might think. Since the Catholic Liturgical year begins with Advent, it is not too early for a New Year's resolution. How about developing the habit of daily prayer? And how about Saint Andrew as your go-to guy for the Catholic New Year? Tie the two together and you are good to go...
The Saint



The Feast of Saint Andrew falls on the first Sunday of Advent. Andrew was the first disciple called by Our Lord, so we have a really nice theme going here. In Scotland, as well as other countries around the world, Saint Andrew's feast day is celebrated with gatherings, festivities and food. While we might not necessarily need another party, we all know we could benefit from prayer. The Saint Andrew Christmas Novena is just the ticket here.

The Novena
The Christmas Novena, also called The Saint Andrew Novena, or The Christmas Anticipation Prayer, is said to be over one hundred years old, with roots in Ireland. Recite the prayer fifteen times daily from November 30 to December 25. Fifteen times daily? For all of Advent? Sure. The prayer is brief and repetitive prayer offers a good opportunity to give your thoughts to God while reciting. All of Advent? Yup. This is much longer than the typical nine-day novena, but consider the benefits! By the time January 1 rolls around, you will have developed a habit of daily prayer and your other New Year's Resolution will be a breeze!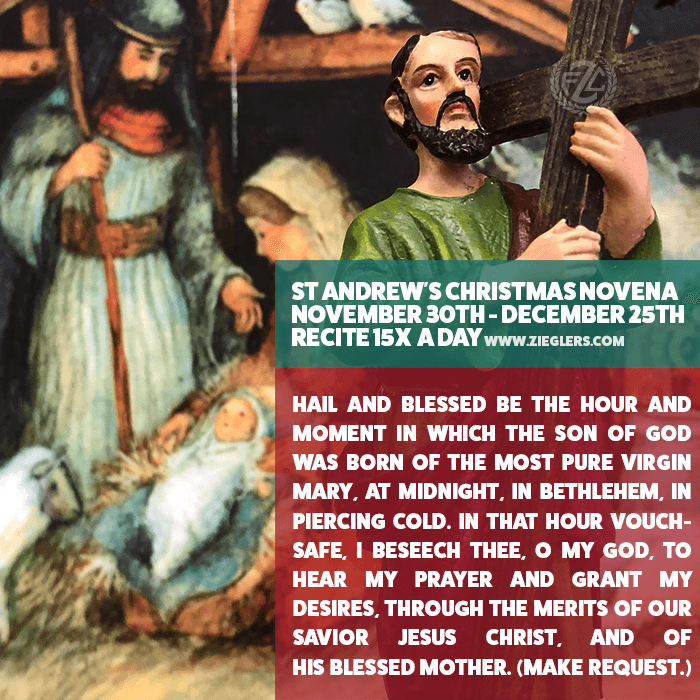 The Prayer
Prayer to Obtain Favors
Hail and blessed be the hour and moment in which the son of God was born of the most pure Virgin Mary, at midnight, in Bethlehem, in piercing cold. In that hour vouchsafe, I beseech thee, O my God, to hear my prayer and grant my desires, through the merits of Our Savior Jesus Christ, and of His blessed Mother. (Make request.)

The Strategy
See? It's a short prayer, so it's doable. And fifteen times a day? No problem. Recite the prayer five times before each meal. Don't eat three squares a day? How about when your feet hit the floor in the morning, middle of the day, and on your knees in the evening? That's how you'll really develop a good habit.
The Icing on Your Advent Cake
Spending time in prayer for the purpose of supplication with a novena is just the beginning. As you pray throughout the Advent season, in anticipation of the joy of Christmas as well has His Second Coming, your Advent season will become more focused. Steep yourself in the season with reverence. Here are a few ideas to help with that.
Click here for a colorful pamphlet entitled The Christmas Novena.
We have plenty of prayer cards with the prayer you will need. Click here for the Prayer to Obtain Favors
Interested in a daily devotional for Advent? Sacred Reading is a good place to start. Click here to view Sacred Reading.
Know someone who is just too busy? Check out a pamphlet for meditation on-the-go: click here to view Advent for Busy Catholics,
Click here to view Celebrate Advent, a pamphlet that provides information and prayers for the Sundays of Advent.
Click here to view one of our Saint Andrew statues.
Matt Maher has released his first holiday album: click here to view The Advent of Christmas CD...
...and a great children's book to go along with it: click here to view The Advent of Christmas picture book.
Click here to view one of our Saint Andrew statues.