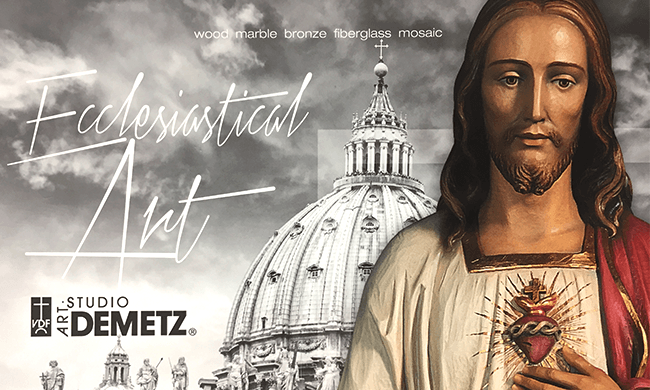 Click here to Shop All Products Crafted by Demetz Art Studio
The centuries-old tradition of wood-carving in the village of Ortisei began with a group of farmers who spent the cold Italian winters carving small statues and reliefs. One of these farmers, in Val Gardena, was Johann Demetz. The passage of time saw skills and talents handed from generation to generation until a business was founded in 1872. In the century and a half since then, the ecclesiastical art of the Demetz family business has become world-renowned. They now design and produce Crucifixes, reliefs and beautiful mosaics in addition to statues - all of it hand-crafted.
We at the F.C. Ziegler Company are happy to make the extensive repertoire of statuary and ecclesiastical art produced by the fifth generation of the Demetz family business available to you. Additionally, we are able to assist you in customization of existing pieces or acquiring a custom piece that begins with your dream for a beautiful piece of church art.

The Wood Studio
Hand-crafted wood carvings provide a timeless beauty that becomes more precious with age. The heart of the Demetz business lies in the collection of statues produced in their state-of-the art wood-working shop. Each piece of art begins with linden wood imported from Eastern Europe. Only the "bull", the portion of a tree, that is, the trunk up to the first branch, is acquired and kiln-dried to the perfect level of moisture so that it will not crack or split. Carvers use the same tools used in the fifteenth century, along with a few more modern tools for larger pieces. Carvers, painters, gilders, carpenters and freelance artists gather and combine their skills to craft each piece, from start to finish, by hand.

The Marble Studio
Marble is known to be nearly impervious to the elements, so your marble sculpture will remain where it stands, to be appreciated by people for generations to come. Demetz uses only the best quality marble from the quarries of Tuscany: bianco duro or bianco puro di Carrara - Michelangelo's marble of choice. Stone carving tools have remained the same over the centuries. A pitching hammer is used to carve a rough shaped figure, using a "moquette", a model, for reference. Then pointed tools and files are used for detailing. The final result is a beautiful statue that is correctly proportioned.

The Bronze Shop
Because bronze is the most durable material in the world used for castings, a piece of ecclesiastical art will last into the next millennia. Artisans at the Demetz Studio use the lost wax technique, which means each piece of work is individually produced. Molten metal is poured into a clay mold that has been created my means of a wax model. Custom orders require the design and use of a new model, which is destroyed once the casting process is finished. After being designed and cast, bronze pieces have a patina, which will develop a rich color as it is exposed over time to the elements. You may choose the initial patina when ordering a bronze piece.
Click here to Shop All Products Crafted by Demetz Art Studio

The Mosaic Studio
The art of mosaic is ancient, with pieces crafted as early as the third millennium BC. From the fourth century AD onward, mosaics became widely used in churches. Their use flourished during the Byzantine Empire, from the sixth to fifteenth centuries, having begun to appear in Italy in the twelfth. The mosaic has become one of the highest forms of sacred art, appearing in churches, cathedrals and basilicas around the world. Small pieces of glass, called tessera, are painstakingly arranged to render images and scenes. The tessera used by the artists of the Demetz studio are produced, by hand, on the island of Murano. Colors are melted directly into the glass and therefore will not suffer from the elements. Because of this, mosaics are suitable for indoor or outdoor use and will literally last for centuries. The artists of the Demetz studio expertly render images in fine detail and rich color.

The Fiberglass Workshop
Fiberglass is a glass-reinforced polyester (GRP), similar to plastic. Because a model and mould process is used to create pieces, this is a good, economical choice. Fiberglass statues with a bronze or white marble finish are treated to hold up to the outdoor elements. Statues with a color finish are hand-painted with old colors and are not recommended for outdoor use.
Click here to Shop All Products Crafted by Demetz Art Studio
Wood - An opaque lacquer overcoat protects wood pieces, so a gentle dusting with a soft cloth is all that is necessary to clean a statue. If necessary, a little water with a small amount of mild soap may be used. Avoid anything with chemicals!
Note: As with any organic material, small cracks or splits may occur as a result of temperature and humidity changes. These do not affect the value of the object; indeed, they become more precious with time.
Bronze - Demetz pieces have a clear coat of sealer that will slow the darkening process. Yearly cleaning is recommended. Using a vegetable brush with some water and a mild soap, clean the statue removing dirt and the "core sand" which at times comes from the inside of the statue, producing white spots. After cleaning the statue, sparingly apply some beeswax (Johnson's Paste Wax or Trewax) with a soft brush to seal the statue again. Too much wax will darken the statue. Let the wax dry completely and rub the existing wax using a soft wool flannel cloth.
Marble - No special maintenance is necessary for marble, except for an occasional rinsing with water and, if desired, a very mild soap.
Mosaics
Indoor mosaics should be dusted using an air brush. Do not use a cloth as lint will remain on the tessera. Use a sponge with water and a very mild soap on outdoor mosaics. Do not use chemicals.
Fiberglass
White marble finish statues displayed outdoors should be wiped with a soft sponge and water with a mild soap or detergent twice a year. Outdoor statues with a bronze finish should be wiped with a soft, wet sponge. Wet the sponge with water only. Do not clean statues on a warm, sunny day, or use chemicals.
FAQ
Q. I can't find the statue that matches the image in my head. I know it's out there. How do I find it?
A. Call our toll free number 1-800-331-4117 and tell us what you are dreaming about. We will help you with a custom order.
Q. How do I clean my statue?
A. Funny you should ask. Click here to read about maintenance for the various materials.
Q. Once I place my order, how long will I have to wait for it to arrive?
A. Several factors play a part in the arrival of your piece of ecclesiastical art. All pieces are produced individually and have to travel over land and sea to find their homes. Depending on the material, size and customization, waits can vary. Custom orders always require extra time. Call us the moment you know you have a need and we will do our best to give a reasonable estimate.
Q. Why don't you post pricing on marble and bronze?
A. Prices are calculated on current rates for the materials.
Your church and church community has a unique character. Each item displayed, whether in the sanctuary, narthex, family center, offices, classrooms, or even outdoors in and alcove or garden, contributes to that character. Let us at the F.C. Ziegler Company use our expertise and professional advice to guide you through the Demetz collection of Italian statuary, Crucifixes, reliefs and mosaics. We will help you to find just the right piece that will inspire devotion and bring joy.
Click here to Shop All Products Crafted by Demetz Art Studio